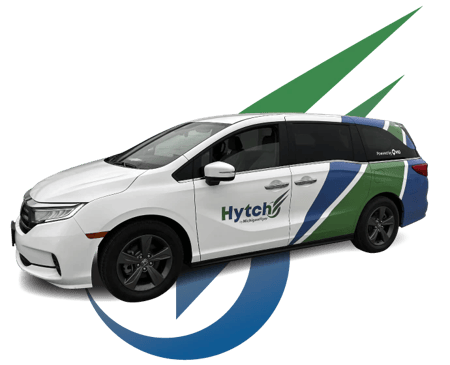 Hytch a Ride to your bus!
Hytch is a new option that provides passengers from East Lansing with a ride to or from your front door. Just add the ride to your Michigan Flyer bus ticket at the time of booking and Hytch pickup times are automatically aligned with your Michigan Flyer pickup time.
Book your premium ride, within the Hytch by Michigan Flyer Service Zone, from your front door to your bus door -- just outside of the Marriott Hotel -- in time to board your Michigan Flyer bus from East Lansing to Detroit Metro Airport. You can book your Hytch ride when you book your Michigan Flyer ticket .
Michigan Flyer Travel Planning
We offer frequent, daily roundtrips by luxury motorcoach between East Lansing, Brighton, Ann Arbor, and Detroit Metropolitan Airport. These shuttles connect mid-Michigan with the world, and our state's two largest universities—MSU and U-M—with one another. Our friendly drivers, reliable service, affordable prices and comfortable rides help take the stress out of travel. Learn more about Michigan Flyer.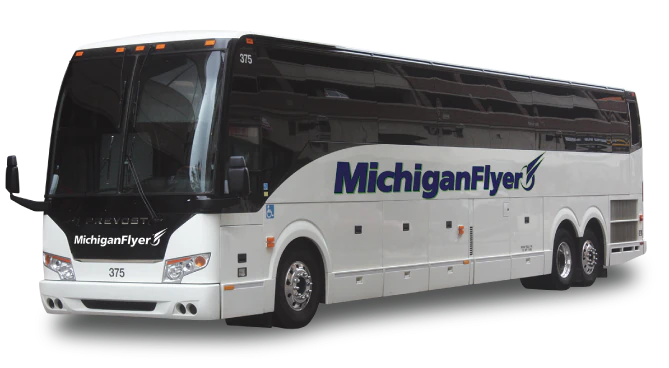 Our Guarantee
We will go the extra mile to depart and arrive on time. That's how we achieved our extraordinary track record of 98% on-time reliability. However, because your safety is always our top priority, we also guarantee that we will not jeopardize your well-being in order to stay on schedule in hazardous weather or other situations where safety may be compromised.
What Our Passengers Say:

"I have used the bus from Brighton to DTW Metro Airport on several occasions. The schedule is well suited for most flights leaving and arriving at DTW. The drivers have been friendly and safe. The bus has always been on time and the ride is quiet and comfortable." - M.D.

"Michigan Flyer=awesome. Typically the most affordable option to get from Lansing area->DTW, the drivers have always been kind, the seats even have little foot rests+ charging outlets+ wifi. Always a good experience for me, I highly recommend!" - Jubee

"I commuted from East Lansing to Ann Arbor for three years, and I took the Michigan Flyer the last two years. It was a lifesaver. The drivers are friendly, the ride is smooth, and the buses are comfy. With free wifi, charging ports at every seat, and free water bottles, it's a pretty cushy ride. :)" - Amy L.