Hytch Door-to-Door FAQ
Why drive when you can Hytch a ride? Hytch offers ride sharing in the East Lansing service area from your front door to your Michigan Flyer bus door, at the East Lansing Marriott. Powered by Via, Hytch provides a reliable, premium ride in a Hytch van, for just $10 one way. So, no more worrying about getting to your Michigan Flyer bus.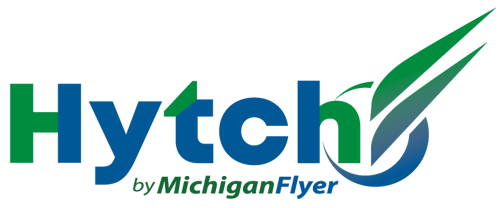 A: When booking their Michigan Flyer tickets online, passengers can now reserve a Hytch-branded van to connect with their bus at the East Lansing Marriott, either when coming from—or going to—home, work, or another location in the Hytch service area.
A: Sunday through Friday from 3 a.m. to 11 p.m.
Hytch is currently not offered on Saturdays.
A: Hytch serves people in a roughly 4-mile radius of Michigan Flyer's location at the East Lansing Marriott. Please see this map of our service area.
A: No, your original Hytch reservation will cancel automatically, and then MUST be rebooked, either directly through the Michigan Flyer website or by calling our office at (517) 333-0400. If the office is closed at the time, just select the Hytch extension indicated by our recorded message to connect with a customer service representative.
Please note -Bus reservations must be changed before making a change to your Hytch reservations. Passengers are able to change bus reservations by going to "Change reservations" on Michiganflyer.com or by changing the reservation directly with the driver.
A: Hytch reservations are non-refundable at the time of purchase.
A: The Hytch service uses new-model mini-vans branded with the Hytch logo.
A: You may share a Hytch ride with other Michigan Flyer passengers.
A: Each mini-van has a 5-passenger capacity.
A: Face masks are not required but always recommended.
A: A maximum of two bags plus one personal item is allowed per passenger. There is a 50-lb. weight limit per bag.
A: One of the Hytch vans is wheelchair accessible. To reserve a ride on it, simply click "Wheelchair accessible" when you book your trip on the Michigan Flyer website. Please note: the wheelchair weight limit is 600 lbs.
A: No. We welcome service animals on board for passengers with disabilities. As defined by the Americans with Disabilities Act (ADA) "service animal" means a dog that is individually trained to do work or perform tasks for a person with a disability.
A: The vans are leased and operated by Via Transportation in partnership with Michigan Flyer and its parent company, Indian Trails. Via brings superior services—drivers, vehicles, and experience—all together with its unique technology.
A: Yes, more than one. Just be sure that, when making the Hytch reservation, you list the number of a cell phone that can receive text messages. Then, at about 2 p.m. on the day before your ride, you will receive a text reminder. Next, about 30 minutes before your actual pickup time, the driver will send you a second text. You will get a third text about five minutes before arrival, and a fourth when the vehicle is outside waiting for you.
A: The driver will only wait two minutes past your scheduled pick-up time before moving on to other riders.
A: Yes, the driver will try to call you at the number listed on your reservation. (Please note that the driver will call from an unlisted phone number.)
A: Yes, bring your bags to the curb and the driver will load the van.
A: The fare for a Hytch ride is $10 per person one way.
A: No. The fare is $10 per person regardless of how many passengers are traveling together.
A: A reservation for Hytch can only be made when buying your bus ticket through the Michigan Flyer website.
A: No. Hytch reservations can only be made through the Michigan Flyer website.
A: Sorry, Hytch is a curb-to-curb transportation service only for Michigan Flyer passengers.
A: Yes. Your Michigan Flyer receipt will contain a separate Hytch bar code that you must show to your Hytch driver.
A: Not yet. We plan to expand the service area if there is sufficient passenger demand.
A: Yes, just check your email for the confirmation.